Download
Soluling is currently on public beta. It is stable enough to be used in production. We give support during the beta period.
Download Soluling setup file 1.0.732 released on 4/7/2020.
View the version history
Features of this beta version
All features and platforms enabled
Production ready: Projects created with this beta build can be used with all upcoming builds.
Cannot be started after the 60-day since it was compiled. In case you want to use it longer you have to get a newer beta build, or a serial number and register it.
System requirements: Windows 7 or later. Windows 10 recommended.
Installation Type
Use this same setup to install all kinds of Soluling editions such as Registered, Evaluation, and Free.
If you have purchased a Soluling license, select this.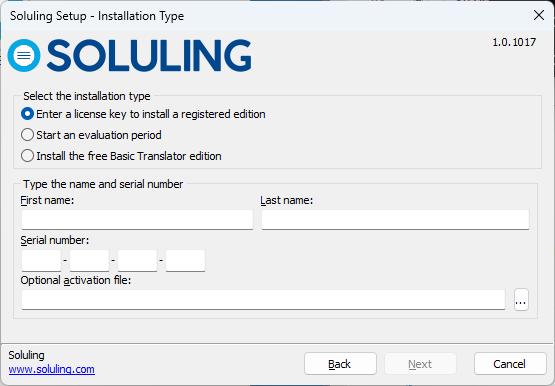 If you have want to evaluate Soluling, select this. You can select that edition you want to evaluate.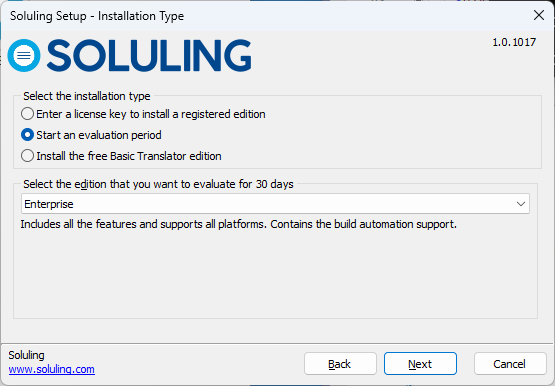 If you are a translator and have received a Soluling job, select this.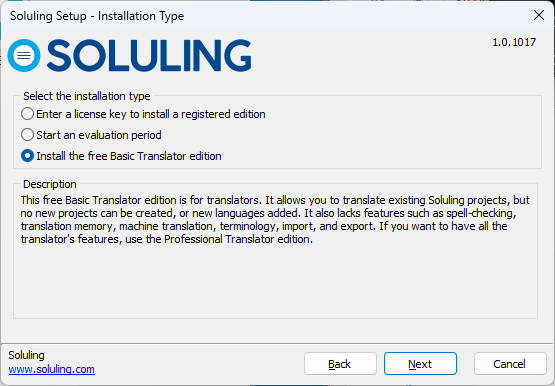 Note, the free Translator edition is a limited one lacking features such as spell checking, translation memory, and machine translation. Use the Professional Translator edition to get all translator's features.
32-bit or 64-bit
Soluling setup application is a 32-bit Windows application that installs 64-bit Soluling on a 64-bit Windows and a 32-bit Soluling on a 32-bit Windows. If you want to install a 32-bit Soluling on a 64-bit Windows check Install 32-bit version instead of 64-bit version on Features page.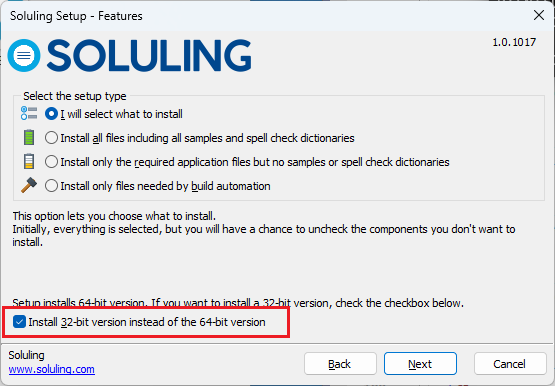 Uninstall
Use the standard Windows uninstall procedure. If the uninstallation fails, you can use Soluling's Clean utility to remove the installation and all the files and registry settings related to it.
Download Soluling Clean utility file.