Soluling has a command line version called SoluMake (SoluMake.exe). It can be used to perform most of the operations of the GUI tool. SoluMake is ideal to be used in your build process through your build or pipeline tools. You can get the detailed help about command line parameters by typing.
SoluMake -h
Note! SoluMake is installed and enabled only if you have a Soluling edition that supports it such as Enterprise edition or Build automation edition.
Using SoluMake in a build server or in a self-hosted build agent
If you have your build server or a self-hosted build agent, the easiest way to install SoluMake is to run the Soluling setup application and to choose to Install only files needed by build automation option.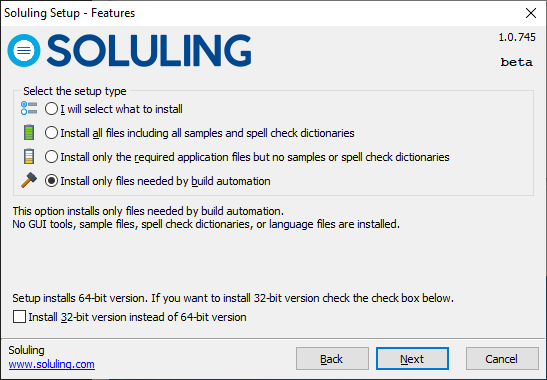 If you use a DevOps pipeline and you don't have a self-hosted build agent follow the instruction in the following chapter.
Using Soluling in DevOps pipeline using a cloud-hosted agent
If you use a DevOps pipeline (e.g Azure or AWS) that does not use your self-hosted build server as a build agent, you can still use SoluMake. Follow these instructions:
Make sure you use a Windows-based build agent. SoluMake.exe is a Windows application.
Include SoluMake.exe in your repo or some other repo. Depending on your source types, you might need to include some DLLs from the Soluling directory. Now when SoluMake.exe is a part of your repo, it will be available in the machine performing your build, and you can use it.
When the build pipeline starts, activate SoluMake.exe by running the following command:

SoluMake activate -firstname:<firstname> -lastmame:<lastname> -serial:<yourserialnumber>

Now you can use SoluMake during the rest of the pipeline. The activation is effective for one day on the build machine.
If you use a self-hosted build agent, follow the instructions given earlier in Using SoluMake in a build server or in a self-hosted build agent.
---